FEATURED FEARMAKERS 2016 REWIND PART I
As we leave 2016 and make way for 2017, we'd like to take a look back at all the great FearMakers we've been lucky enough to feature on We Are Indie Horror. Below is part one of our Featured FearMaker rewind for 2016.
---
In May of 2010, Michael Sharpe made the decision to move behind the camera and try his hand at writing and directing. His first short film, Monomaniacal, was a twenty-two minute short about a girl who finds herself trapped in a basement by a deranged killer. The film received mixed reviews from the press but was nevertheless the cornerstone of his directorial career. After completing this project, Michael got hooked on directing. Within the next twelve months, Michael would write and direct his sophomore film, The Deviling, about a girl who experiences her worst fears after a failed relationship with a mortician. This short traveled to several festivals, and even won a few awards, as well as rave reviews from critics and fans
---
Born and raised South of London, Gavin grew up like most kids in the UK, watching Hammer horror films. His parents allowed him to watch The Omen at eight years old, but it was not until he saw John Landis' American Werewolf in London when Gavin was mauled by the horror bug.
Along with the horror genre, Gavin had a love of hip-hop. After studying music and production, Gavin set out to make instrumental hip-hop tracks. The one issue was he did not know any MC's, so Gavin had no other choice but to be creative. The horror-loving hip hop artist spliced in dialogue from classic horror films of the 20's through the 70's in order to complete his music, giving it an incredibly unique and dark feel. Just like in horror, a hip-hop artist looks into the past for inspiration and Gavin did just that with his music which resembles hip-hop at the start of the genre. Taking inspirations from John Carpenter and Rob Zombie, Gavin's music had dark qualities which would be excellent in any horror film.
---
JR was driven back to directing narratives in December of 2013 with his three-minute short film Departure. Featuring a lonely recluse, mind-altering drugs, and aliens, JR carried Departure from concept to final cut in less than one month for the 2013 Bloody Cuts Who's There Film Challenge. The film made the competition's top 50 selection, and lead actress Lisa Sumiyoshi won the award for Best Acting.
In October 2014, JR wrote and directed another horror short, No Face, about a young man immersed in a first-person survival horror game that gradually turns all too real. No Face was one of the winners of YouTube Space and Legendary Pictures' House of Horrors competition, the prize being a personal consultation with director Guillermo del Toro, who heaped praises on the film's thick, ever building tension and horrifying climactic reveal.
---
Jeremy has had a love affair with the horror genre ever sine he was a young kid growing up on a small farm in Summit Point, West Virginia. He watched Children of the Corn, which resulted in many sleepless nights seeing as there was a corn field right across the street. This love for horror continued through many R.L. Stein books, and later graduating to Stephen King masterpieces. "My middle school library had almost every Stephen King book and I'd leave school each day with my backpack practically overflowing with his books. Stine introduced me to horror fiction at a young age and King made me fall head over heels in love with it." Kings stories and characters spoke to Jeremy, specifically King's impeccable character designs. His villains such as Randall Flagg from The Stand and Pennywise from IT left their mark on Jeremy, hinting towards a career in horror literature. "I feel like his ability to write incredibly complex villains has inspired me to put lots of character development into my own antagonists"
---
Born and raised in the city that never sleeps, Marc Fratto always had a love for horror films. Anything nightmarish was able to grasp the attention of the young Fratto child. Monster movies like Godzilla and Gamera were his first introductions to horror films, along with the classic Sinbad films of the 1970's. In fact, the first movie theater experience for Marc came from a screening of The Golden Voyage of Sinbad. After that came the Spielberg summertime hit Jaws, which he saw in theaters at the age of six. The first true horror film Marc remembers seeing in a theater, however, was Ridley Scott's triumphant Alien. This film solidified Marc's love for horror and devoted his life to the genre.
By the age of 14, Marc was writing horror stories, sometimes writing in the form of a screenplay.When Marc first saw Sam Raimi's iconic masterpiece Evil Dead, he was able to recognize the direction behind the camera inevitably setting off a rapid chain of events which allowed for Marc to pick up a camera. Marc was now able to visualize his stories in cinematic form. 
---
Originally written in the summer of 2006, after a road trip through Pennsylvania where Mark was hit with a spark of inspiration. He was to write a horror/thriller/dark comedy about a road trip gone awry. Over the years, Mark would hone his script making it tighter and stronger. Channeling inspiration from filmmakers like Wes Craven and Michael Hakene, Mark made sure his script was the best it could possibly be. Then in 2010 while studying producing at NYU's School of Continuing Professional Studies, he learned about budgets and copyrights, which helped him create an actual budget for Sticks, and set the wheels in motion to produce his film.
He originally planned to shoot Sticks as a feature length film, but after the all too true realization of how much planning goes into a feature, Mark decided it is best to shoot it as a short film first. With the decision made to shoot his short film over a weekend in late August of 2015, Mark began casting his roles. With the help of some friends, he was able to find talented actors to bring with him to Maine to shoot Sticks. With his cast and crew set, as well as a location secured from a friend's mom, he was ready to make his film.
---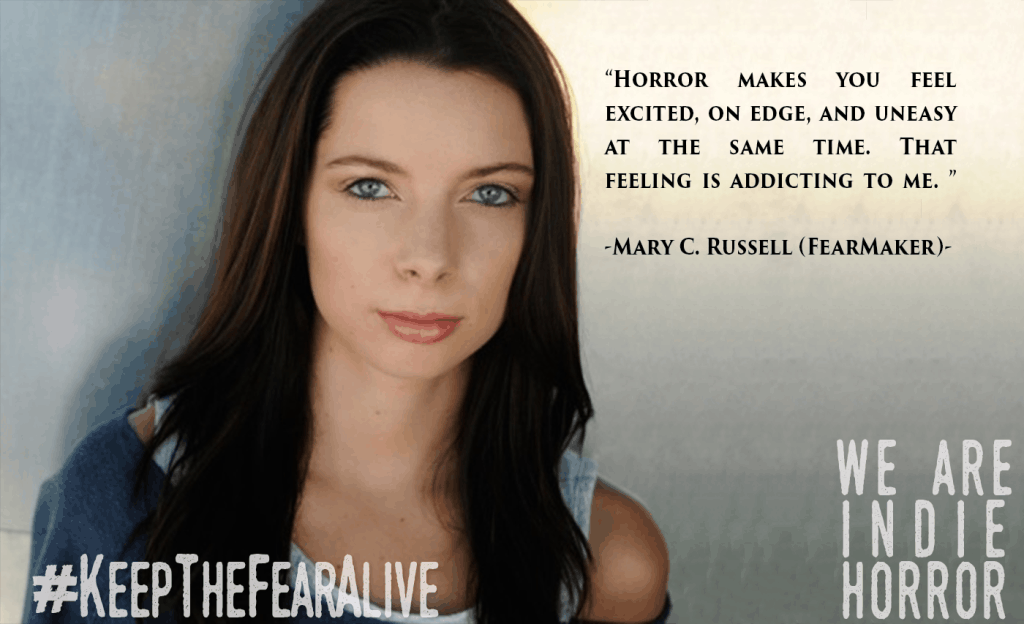 Mary's directorial debut, Carved, tells the story of an evil killer spirit which possesses people to do it's deadly bidding. Written by Mary and Stephen Czerwinski, the film follows four beautiful women on a road trip when the evil spirit comes for them. Reminiscent of old grindhouse flicks, Carved has screened across the country, with a possible feature in the works. We will have a full review of the short film later this week, so keep an eye out.
---
When it comes to horror, Chris joined the game a bit later than most. During his high school's senior ditch day, a bunch of friends rented the Sam Raimi classic Evil Dead. The film blew him away, but not in a good way. "All the comedy I see in it now was lost on me back then. It just freaked me out. " Years later Chris would turn to the wonderful world of Lloyd Kaufman and his band of freaks with Troma pictures, as well as Alien, Re-Animator, and Evil Dead 2 to turn him into a horror fan. His friend and fellow filmmaker David Buchert, and avid horrorophile introduced Chris to a wide variety of horror films, further engulfing him into the strange and unique world of dark cinema.
---
David's first feature film was a documentary about the making of a low-budget film, which never got released. His second feature film, Blood Oath, was made at a very dark time in David's life. "It actually saved me from a serious depression. When you're balls deep in production you don't have time to worry about much of what's happening in your "real" life." The film featured Tiffany Shepis and Tina Krause and was the first time David used professional actors in his work. After a few screenings at festivals, David met with Troma's Lloyd Kaufman, who wanted to distribute the film under the Troma brand. Despite knowing that the film won't make him tons of money, the idea of being distributed by a company that made so many films he watched growing up was payment in of itself.
---
Horror has often been referred to as "the director's medium." "[This] really appealed to me because you have the clear stylistic skills of many high profile directors who started out making some of their first films with horror…" The passion for filmmaking has always been inside Michael since he was a child, but it was at the turn of the century when he was in his 20's, that the advancements in technology made film more accessible to the masses. He saw his opportunity to become a filmmaker, specifically a director, and he took it.
Michael graduated with an MFA from the Grad Film / Broadcast Cinema Program at Art Center in 2010. After that, he split his time working alternately in the entertainment industry and the fine art world. He began making short films, and in 2012 began working on the Psychedelic Horror-Thriller Feature Film titled Expressway To Your Skull.
---
Much like a fingerprint, each and every filmmaker has their own unique style which defines their works, making them distinguishable from any other filmmaker. For example, Rob Zombie uses a lot of color along with heavy camera movements and lots of gore, where on the opposite side of the spectrum Stanley Kubrick works out methodical shot layouts, relying on his characters to supply the terror. Michael Matteo Rossi has his own unique style, which is apparent in all of his works thus far. Shying away from the gore and gratuity we've all come to know and love, Michael relies on rich stories with strong characters to show the world his visions. Michael leans towards a dark cerebral horror which toils in the mind long after his films has finished playing. To Michael, this is what horror should be. "There is something intriguing about the human nature of fright: almost desiring to be scared, but a movie makes it so you know you are not in any real danger. We love to be thrilled just like we love to be excited and horror films do just that. They enable every visceral emotion."
---
Be sure to come back tomorrow for Part II.
Keep The Fear Alive!
Please follow and like us: